Social Dog
Cindie Carter
Wednesday, 11:00am 12:00pm
AIRS LIVE at 11 AM PST / 2 PM EST

CALL CINDIE DURING HER LIVE SHOW BETWEEN 11 - 1 PM PACIFIC US WEDNESDAY AND BE AN ON-AIR CALLER! DIAL USA 1-760-456-7277

Social Dog is devoted to inspiring, motivating, and educating dog owners as well as those who love dogs. We're a community where dog lovers can learn more about topics relevant to dogs and their social well-being.

We'll be teaming up with some of the most capable animal experts in the world in order to teach you as much as possible about your pooch, including how to train, exercise, socialize, and love them! We'll speak with animal communicators, training experts, forward-thinking veterinarians, animal advocates, breeders, and other dog owners just like yourself in our quest to love up our furry friends. If you have a question about your dog, be sure to call us live for answers on every show.

Social Dog is so excited to be part of InFlowRadio and co-creating a better life for dogs with love and compassion.
About Cindie Carter
---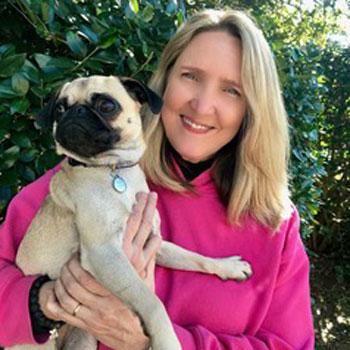 Host Cindie Carter, native of New Orleans, hails from Mobile, AL where she maintains a highly successful pet resort and training center for dog called "Walks and Wags Inc."

Her 27 years' experience with Walks and Wags translates into thousands of hours of observation of both dogs and owners, giving Cindie her laser-sharp insight into the dynamics of our relationships with our fuzzy friends, which she demonstrates each week with live callers and guests on her radio show, Social Dog.

Prior to working with dogs, Cindy worked in the auto business and raced cars. She's successfully made it through a number of harrowing experiences in life, including losing her land to Hurricane Katrina and battling lung cancer. Her experiences have only given her a keener appreciation for our animal friends who fill our lives with love and meaning.

Cindie is always giving back, including founding Mobile County P.A.L.S., a non-profit for a local animal shelter. She's also a member of the Advisory Board for MCAS.

Finally, Cindie started a first-of-its-kind dog therapy program for underprivileged children ranging from 8-18 years old, teaching them Dog Language and how to feel empowered with their animal friends so they can transition more successfully into their adult lives.
---
X
Call A Live Show
Free Calls Worldwide
(Only for desktop Chrome or Firefox!
This link will not work on mobile phones!)