Trauma Conscious Kundalini Yoga with Katrina Marie
Sivana Podcast/Sivana East / Brett Larkin
August 29, 2023
---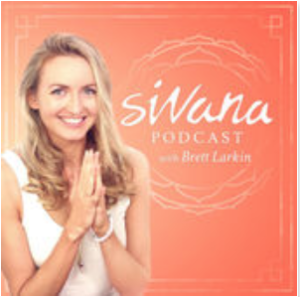 Sivana Podcast
Sivana East / Brett Larkin
August 29, 2023
Trauma Conscious Kundalini Yoga with Katrina Marie
"Trauma informed" Kundalini Yoga may sound like an oxymoron. Today, we unpack why and what to do about it. I'm joined by Uplifted Lead Teacher Trainer, E-RYT 500+  Katrina Marie, who has a background in biological sciences, somatics, and a deep love of yoga, especially Kundalini. She is the author of a meditative trauma healing journal for women, a virtual and local studio owner, and one of our very own lead teacher trainers on all three of our Uplifted trainings. Get ready to learn:
🔹Why Kundalini Yoga can lead to a break-through or break-down, depending where you're at in your journey
🔹The Trauma Conscious Model of how to experience (or teach) Kundalini kriyas
🔹What makes Kundalini kriyas and meditations are better suited to healing trauma than others
🔹Why resiliency is overrated
🔹The difference between big "T" and little "t" trauma 
🔹Amazing trauma conscious cues you can say when teaching a Kundalini Yoga class. 
Katrina survived an eating disorder, a school shooting and an abusive marriage. Kundalini Yoga was the game changer in her healing. So many trauma survivors could benefit from Kundalini Yoga, but they are intimidated. Find out why it doesn't have to be that way. 
Key trauma informed phrases from Katrina:
✅"Do ____ for as long as feels comfortable"
✅"Try this on"
✅"You have a choice to _____________"
*This episode assumes you know what Kundalini Yoga is and have experienced fundamental Kundalini mantras and meditations such as Kirtan Kriya. If you need help getting up to speed, please explore the recommended practices and listening below. 
GUEST EXPERT: Katrina Marie | https://katrinamarieyoga.com/
Relevant to Today's Episode:
✅ 200-hour Online Yoga Teacher Training
🔮 300-hour Online Yoga Teacher Training
🐍 Kundalini Demystified – On Sale!
✨ PRE-ORDER MY BOOK: brettlarkin.com/yogalife ✨
Mentioned Practices:
Kundalini Meditation for a Calm Heart
10-Min Meditation and Pranayama | Easy Morning Kundalini Kriya For Stress Relief
Blog:
How Yoga For Trauma Release Works (Uplifted Perspective)
Kirtan Kriya: Kundalini Meditation That Will Make You Feel Better
How to Resolve Intense & Traumatic Kundalini Awakening
🎧 Also Listen to:
#264 How is Kundalini Yoga Different than Hatha/Vinyasa Yoga?
#265 What is the Kundalini Serpent? The Major Misunderstandings Demystified
#275 What Is a Kundalini Awakening – 3 Big Takeaways
© 2023 Uplifted Yoga | BrettLarkin.com
Source: Sivana
Play Now
---