#254: My Spirit Doctor
Dear Venus/Venus Andrecht
September 20, 2023
---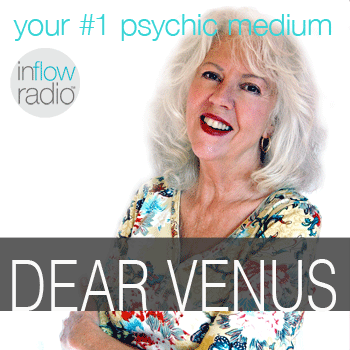 Dear Venus
Venus Andrecht
September 20, 2023
#254: My Spirit Doctor
• Having A Mania Attack
• Empaths Who Hide
• Skunks & Almonds
• Pain Has A Form & Personality
• Angie's Dog Makes A Statement
• Any Odd Days In Your Life Lately?
• Radio Callers Live On Air:
A Man In England Needs Some Big Encouragement
Call 760 456 7277 To Get A Reading On Air
• Todays WINNER for a Free Reading With Venus, chosen weekly off ML
• How TO GET ON MY ML
• Private & On Air Reading Comments & Testimonials
• Instagram: venus_andrecht
Callers always get free On Air readings every live Dear Venus show Wednesdays at 2 pm PAC/5 pm EST. Call the show at (760) 456-7277.
*Dear Venus Show every Weds at 2 pm PAC/5 pm EST. Call the live show at (760) 456-7277
Private Reading & ML information
Podcasts Sent to you If You're On My ML STUDIO
Play Now
---