#142: Meeting Ram Dass & Eckhart Tolle
Dear Venus/Venus Andrecht
March 10, 2021
---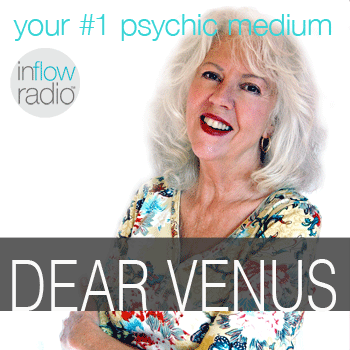 Dear Venus
Venus Andrecht
March 10, 2021
#142: Meeting Ram Dass & Eckhart Tolle
• What Are We All Doing Here?
• Listeners Report To Venus
• A Second Shot Wonder
• Caller: 'You Go For it, Girl!' Advice to 75 Year Old Woman In Love With Young Man
*Show ended early… Thunder Happened & Southern California Can't Handle Thunder!
I had just left for a break and never came back…some listeners thought something horrid must have happened to me. Nope. Just Technology & The God Of Thunder. Thanks for your concern! xx Venus
Callers always get free On Air readings every live Dear Venus show Wednesdays at 2 pm PAC/5 pm EST. Call the show at (760) 456-7277.
Visit godisalwayshappy.com for Radio & Private Reading information.
Play Now
---